Shark Attacks: Myths, Misunderstands and Human Fear
We feel extremely privileged to have been asked by the publishers CSIRO, to review this book.
Marine Biologist, Blake Chapman approached what is arguably an extremely emotive topic, and produced a well balanced and highly educational book that tackles the issues of human/shark interaction with empathy. "Shark attacks have become a highly mediated, sensationalised topic and attract a great amount of interest from a wide variety of people. Not surprisingly, opinions on shark attacks can be very strong and greatly divided" (Shark Attacks, Myths, Misunderstandings and Human Fear). We suggest this is the one book all journalists should read before attempting to write a shark related media release!
Readers are presented with well researched scientific fact around shark biology and feeding behavior, and sensitive interviews with both attack victims as well as paramedic and trauma teams and public opinions. Blake provides us with a holistic view to how sharks are perceived, where so much misconception comes from, and clarifies fact from fiction. Additionally, Blake also discusses the issue of how we fear sharks and what the implications of such fear are with regards media responses.
This is a book that is hard to put down, and if you only read one shark related book this year, we highly recommend you make it this one.
Blake Chapman has a PhD in marine biology and her 'ultimate goal' is to 'encourage both the conservation of sharks and the ability for humans to enjoy recreational water activities without the fear of being attacked by a shark'.
New Zealand Great White Sharks
Join shark scientists as they track New Zealand's great white sharks in a science adventure book aimed at intermediate-age children and young adults.
Great white sharks are one of the worlds most impressive and familiar predators but until recently we knew surprisingly little about them. This book changes all that, opening a window into the amazing world of New Zealand's great whites.
Join Kiwi shark scientists, Malcolm Francis and Clinton Duffy, as they track great white sharks from the cool waters of southern New Zealand to the warm waters of the Great Barrier Reef and the tropical Pacific. Discover how electronic tags have revolutionised the study of great whites, revealing that these mighty ocean predators are international travelers that dive to depths of more than a kilometre as they journey to and from shark hotspots at Stewart Island and the Chatham Islands. Visit Australia's shark nurseries, meet the Stewart Island shark gang and join the teenage great white sharks, Nicholas Cage and Pip, on their travels.
Award-winning natural history writer and broadcaster Alison Ballance has been following the New Zealand great white shark project for the last decade. She takes readers out on a research boat to experience first-hand the thrill of encountering and tagging a great white shark, follows the excitement and frustration of tracking their movements around the southwest Pacific, and uses science to paint a portrait of great white sharks as you've never understood them before. Find out what pieces of the great white shark puzzle have been solved, and what questions remain unanswered, in a science adventure book for young adults and anyone with an interest in sharks and the sea.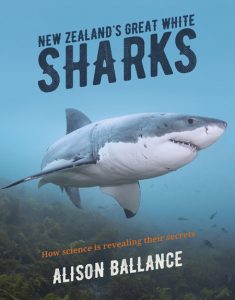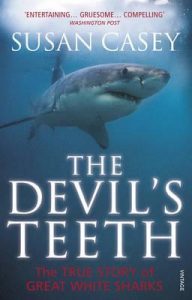 The Devils Teeth
Don't let the title fool you! Yes, there is a strong link in the title with the white shark, but Devils Teeth actually refers to the Farallon Islands off the Western US coast at San Francisco. Susan is a self-confessed white shark addict and the book is an account of the start of her relationship with them. Initially, she was a natural history journalist and was given the assignment to do a report on the white shark research that was on-going on the Farallon Islands. Once on the islands, however, she was introduced to a lifestyle, and an animal she was neither expecting nor in her wildest dreams would have such a profound lifelong effect on her.
Once the posting was over she made it her goal to go back again and again, each time the majestic ruggedness of the islands and the charismatic inhabitants both underwater and on land, rubbed off on her more and more, fueling a passion that is only too evident in this book. The references to visits by the Cousteau team along with various other noted white shark biologists keep the reader very much in the realization that is no fictional story but a real-time account. A great and very entertaining read and a book we highly recommend.
The Secret Life of Sharks
Dr Klimley's research 'novel' was quite good-The Secret Life of Sharks is based on the research he had done on hammerheads and white sharks in the early 1990's around the Sea of Cortez and the Farallon Islands, and a lot of his work was pivotal in clearing up many of the misrepresentations of sharks as mindless feeding machines that had been painted so well by Hollywood and the media.
The book reads like a story, but Klimley goes into great detail about the research methodology he used in his experiments; what went wrong, what worked, his frustrations and his elation's all seamlessly married into the scientific aspects of the book. It doesn't fall into the trap of 'dry research paper', and the science is solid while still engaging. The book could be enjoyed by a fellow researcher or someone who has never taken an interest in scientific research-and it certainly opens your eyes about how intelligent, discerning and sensitive these creatures really are. Klimley's research in the 1990's was groundbreaking-this book is a story of that journey and a testament to dispelling myths and revering animals that need both our respect and our protection.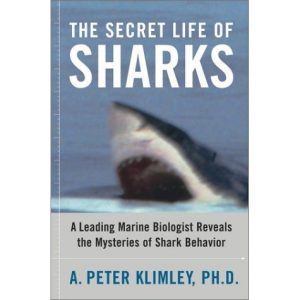 Great White and Eminent Gray
Chris Fallow"s book Great White and Eminent Gray is a brief history of his career with white sharks, explaining how he got involved and some of the highlights of his work. Chris is widely known for his incredible flying shark" photos. Based in Cape Town, and an established wildlife photographer, he has mastered the art of photographing the sharks breaching, by towing a decoy behind the boat.
Chris surfaced into the limelight with the worldwide release of his documentaries Air Jaws and Air Jaws II. As I understand it, Ultimate Air Jaws, his third documentary, is now released and Chris may be coming to New Zealand next year. The book is an easy and enjoyable short read, but the photographs will grab you. If you are looking for an eye-catching coffee table book that will undoubtedly spark some interesting conversations, look no further!